PocketGIS can be connected to a GPS receiver for location tracking and data capture.
Note: PocketGIS is a software application and is not supplied with a GPS receiver.
PocketGIS will work with any receiver that can output location data in the NMEA interface protocol.
An illustration of some of the GPS functionality follows.
Location Tracking
PocketGIS will display your current GPS position on screen and will automatically pan the map display to keep your position in view.
Data Capture
You can digitise from the GPS position at the touch of the satellite button at the end of the toolbar.

Real Time Projection
PocketGIS projects the GPS position into your chosen coordinate system in real time giving on the spot data validation.
Many national projections are supported together with Universal Transverse Mercator (UTM).
Datum conversions can be performed between over 100 geodetic datums.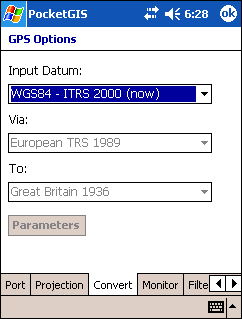 Position Quality Checking
You can set minimum quality criteria for the GPS position.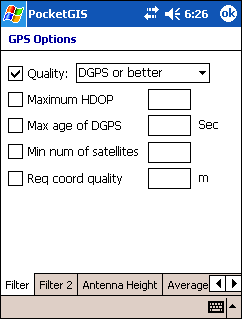 You will be given visual and audible warnings if the criteria are met. On screen information is also provided.
GPS Trail
The GPS Trail Function will automatically digitise a point, using the current GPS position, at a predefined interval.